A message from the current President, Manell Zakharia, and the current board with information about the elected board. The new President is Dick Botteldooren.
Read this message in this PDF file.
EAA best paper & presentation awards for young researchers 2022
The winner of the EAA best paper & presentation awards for young researchers 2022 (announced during the closing ceremony of Euroregio 2022 in Aalborg, Denmark) is Michiel Geluykens with a work entitled: "Assessment of the proposed changes regarding heavy vehicles in the statistical pass-by draft standard ISO/DIS 11819-1 (2021)"
Congratulations to Michiel Geluykens !
This award is sponsored by the Head Genuit Foundation.
Forum Acusticum 2023 (11-15 Sept. 2023, Torino, Italy)
The Italian Acoustical Association is pleased to invite you in Torino (Italy) to attend Forum Acusticum 2023, the 10th Convention of the European Acoustics Association, from the 11th to the 15th of September 2023.
Forum Acusticum 2023 will be hosted at the Politecnico di Torino, in a renovated area of the campus with new and well-equipped rooms. The Congress will be a world leading event in the areas of acoustics and vibration and a great opportunity for participants to increase their knowledge, to share new techniques and competences, in the wide range of acoustics nowadays addressed in the community. A very attractive technical program will be ensured, with 5 keynote lectures, several technical visits and invited and contributed papers, which address all the subjects of acoustics, from basic research to applied topics. In addition, social programs, tours, and a jam session have been planned for participants and accompanying persons, which will enjoy the Turin's culture and the beauties of the Piedmont region.
The EAA summer school on the hot emerging topics of acoustics will be organized along 3 days before the conference, from the 8th to the 10th of September 2023, as attracting opportunity for students and young researchers.
We look forward to seeing you in Torino for a full immersion in the latest trends in acoustics and vibration research!
More information to come at: https://www.fa2023.org/

Cancelled: Forum Laboris (EAA's online Job Fair) :
16 to 19 May 2022
The Noisella Short Stories:
cartoons for getting in touch with acoustics themes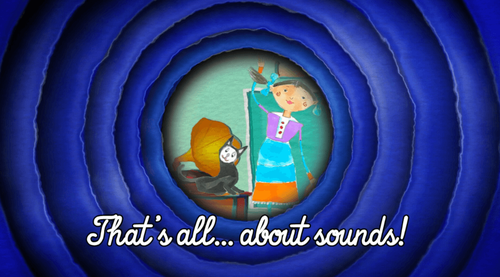 The Noisella Short Stories consists of 11 cartoons for children, divided into 2 series, and regarding basic theory of sound and noise effects and tips for living in good soundscapes.
The project aims to raise awareness on noise and its effects as well as to educate children and adults to listen good and positive sounds as a part of the everyday life soundscapes. It is supported by HEAD-Genuit Stiftung and produced in collaboration with Vie en.ro.se. Ingegneria. The material is distributed and broadcasted on the YouTube official channel "The Noisella's Adventures".
The characters of the cartons are Noisella, the star of the series who has been created more than 10 years ago for the Italian Noise Awareness Day, her cat Marisa, and her two friends.
Noisella is a curious child who like creating commotion and discovering new sounds.
Together with her faithful kitty Marisa, she helps her friends to learn basic acoustics by experience, visiting together many places and listening to many different pleasant and unpleasant sounds.
At the following links you can watch the two series of "The Noisella Short Stories":
Noisella Teaches Acoustics 00 - WHAT IS A SOUND?

https://www.youtube.com/watch?v=Ipdu9HDK8XQ
Noisella Teaches Acoustics 01 - LET'S KNOW SOUNDS!

https://www.youtube.com/watch?v=YA9UNTidzIo
Noisella Teaches Acoustics 02 - CATCH THE SOUNDS!

https://www.youtube.com/watch?v=gP4POsVIYOI
Noisella Teaches Acoustics 03 - RECOGNIZE SOUNDS!

https://www.youtube.com/watch?v=8YIK5Xz7vNU
Noisella Teaches Acoustics 04 - GOOD SOUNDS AND NOISY PLACES!

https://www.youtube.com/watch?v=7zVKs_0-UNo
Noisella Teaches Acoustics 05 - HEAR THAT SOUND!

https://www.youtube.com/watch?v=N8PZFKU0wG0
The first series of cartoons was subtitled in Italian language and dubbed in German language, therefore a special thanks is due to the Acoustical Society of Italy (AIA) and the German Acoustics Association (DEGA) respectively.
Call for assistant product managers at EAA
The EAA has opened up several Assistant Product Manager positions, an exciting opportunity to gain experience and broaden your network in the field of acoustics.
As an Assistant Product Manager you will be working to bring one of the EAA's services to the European acoustic community (more details in this PDF file). This can include not only helping in running the product, but also developing a vision for the future of the product, which means that the sky is the limit!
The products in need of an Assistant Product Manager are:
- Acoustics in Practice: Publication on applied acoustic topics
- Nuntius: Bi-monthly newsletter addressed to National Societies
- Schola: The online study guide of acoustics in Europe
- Documenta: Archive of electronic materials in the field of Acoustics
- Mentoring: Links between young and senior acousticians
News from the societies & Young Acoustians Network (YAN)
The Acoustic Society of Italy (AIA), established on February 10, 1972 is a non-profit, scientific association that groups together Italian acousticians and experts in many fields connected with acoustics, sound and noise control.
This year AIA celebrates its 50° Anniversary with a rich program of events, including conferences, meetings, publications. A special section in AIA website is dedicated to AIA 50, reporting the history of the Society and of its scientific journal (Rivista Italiana di Acustica) together with a summary and some statistics on the past forthy-seven AIA National Congresses and on the important International Congresses and Conferences organized and co-organized by AIA: among these we remember Euronoise 2003, ICA 2010, AIA-DAGA 2013 and ICSV 2015.
You may watch the official videoclip of AIA 50 celebration at the following link at https://acustica-aia.it/wp-content/uploads/2022/02/AIA-50-anni_2.mp4
2 bulletins of the SGA-SSA are available:
-- SGA bulletin 2022-1
-- SGA bulletin 2021-2

The SGA-SSA, founded in 1971, will organise an anniversary conference during the fall of 2022 (the conference scheduled for the fall of 2021 was postponed du to the Covid situation). During this conference, the SGA-SSA will announce the results and prize winners of its competition for binaural 3D recordings – a contribution to the International Year of Sound.
Latest news from the Young Acousticians Network (YAN):
Acta Acustica latest publications :
Visit https://acta-acustica.edpsciences.org to read all publication (open access).
To request email alert on new publications of "Acta Acustica", please follow this link.

Finite-amplitude sound propagation effects in volume backscattering measurements for fish abundance estimation
Audun O. Pedersen, Per Lunde, Frank E. Tichy and Rolf J. Korneliussen
S-shaped dependence of the sound pressure level in outdoor propagation on the effective sound speed gradient
Dieter Hohenwarter, Erich Mursch-Radlgruber and Christian Kirisits
2D phononic-crystal Luneburg lens for all-angle underwater sound localization
Yongdu Ruan (阮永都) and Xu Liang (梁旭)
Pilot study on the influence of spatial resolution of human voice directivity on speech perception
Aurian Quélennec and Paul Luizard
Anti-reflection cover to control acoustic intensity in in vitro low-intensity ultrasound stimulation of cells
Meysam Majnooni, Elise Doveri, Jeanne Baldisser, Vincent Long, Julien Houles, Jean-Claude Scimeca, David Momier, Carine Guivier-Curien, Philippe Lasaygues and Cécile Baron
Parameter identification of a physical model of brass instruments by constrained continuation
Vincent Fréour, Louis Guillot, Hideyuki Masuda, Christophe Vergez and Bruno Cochelin
Featured News
Featured Events
Featured Job Offers
No featured job offers for this issue