EAA Stands with Ukraine

The EAA supports the ICA statement on Ukraine crisis:
https://www.icacommission.org/2022/03/02/ica-statement-on-the-russian-ukrainian-crisis/
Forum Acusticum 2023 (11-15 Sept. 2023, Torino, Italy)
The Italian Acoustical Association is pleased to invite you in Torino (Italy) to attend Forum Acusticum 2023, the 10th Convention of the European Acoustics Association, from the 11th to the 15th of September 2023.
An EAA summer school on the hot emerging topics of acoustics will be organized along 3 days before the conference, from the 8th to the 10th of September 2023, as attracting opportunity for students and young researchers.
More information at: https://www.fa2023.org/
EAA is offering sustaining memberships
There are 3 supporting memberships :
Silver: 1 500 € / year
- Logo displayed in Fenestra Acustica with a link to the Company website
- Job announcements inserted in Fenestra Acustica
Gold:3 000 € / year, Same as Silver + in addition
- Logo displayed in EAA publications and in EAA Conferences
- 5% discount on advertisement in EAA journals and exhibition in EAA conferences
Platinum: 6 000 € and more / year, Same as gold +, in addition
- Physical presence during specific actions like specific workshops, prizes, travel
Read more for additional details and to apply.

Acta Acustica
Acta Acustica (formely "Acta Acustica" then "Acta Acustica united with Acustica") is an open access journal which reports on original scientific research in all subjects in the field of acoustics and on engineering applications. The journal includes scientific papers, technical and applied papers, book reviews, short communications, doctoral thesis abstracts, etc. In irregular intervals special issues and review articles are published.


Since September 2019, Acta Acustica has changed its publisher and is now available at https://acta-acustica.edpsciences.org.

To request email alert on new publications of "Acta Acustica", please follow this link.

The tables of content of the archive of Acta Acustica (united with Acustica) since 1951 to 2019 are available here.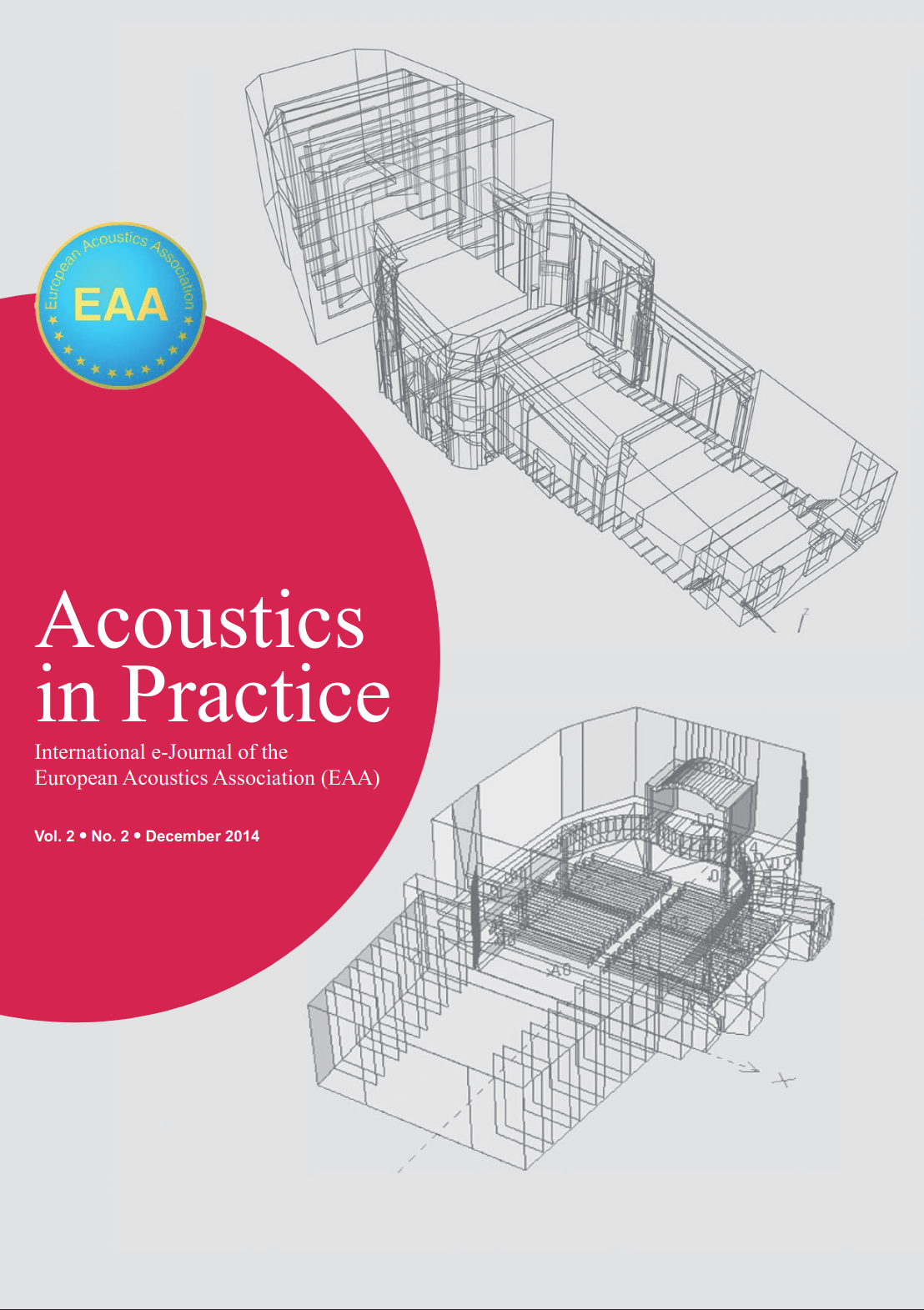 Acoustics in Practice
The journal audience is those practicing in the fields of acoustics, noise and vibration. Readers and contributors are expected to be practitioners: these include consultants, manufacturers, policy makers and regulators.


Link to AiP webpage with all table of contents and articles freely available for download.
(Last issue : October 2017).


In order to enhance its visibility and increase its regularity, we are adopting a big change: publishing the papers individually.
Twitter feed